How should we celebrate holidays with young children?
Dec 04, 2017
"We need to help students and parents cherish and preserve the ethnic and cultural diversity that nourishes and strengthens this community – and this nation."
— Cesar Chavez
Our diverse world…
Did you know that Houston is the most diverse city in the entire country? At a recent training with preschool teachers in the Houston area, I learned there are 70 languages spoken in their suburban community! Although Christmas is important to many, it's only one of the lots of holidays celebrated in December and many cultures and religions do not celebrate a holiday at all. This can lead teachers and directors to wonder how to handle the traditional December holiday time.
Is our center celebrating the culture and diversity of all of our students, giving each the opportunity to feel appreciated and valued for who they are?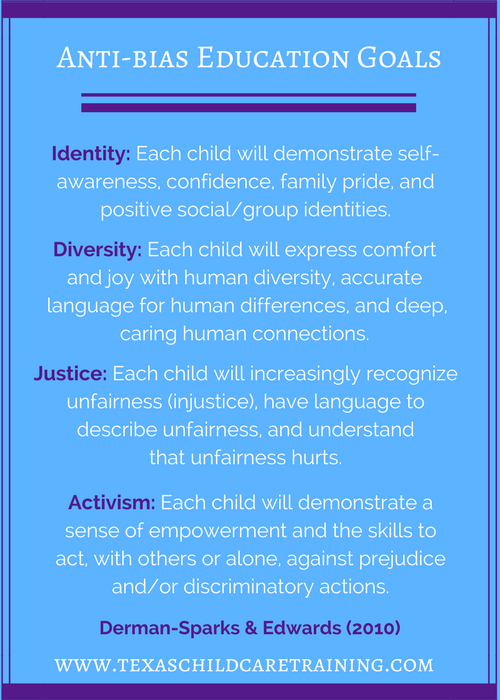 Why anti-bias celebrations and what does that mean?
In a 27-year effort to address diversity, inclusion, and equity, anti-bias education has become a critical component in Early Childhood Education (ECE) and it plays a big part in how we should look at holiday activities in our classrooms. The four key anti-bias education goals (image on right) should be integrated into activities we choose, making our classrooms a place to celebrate the diverse world we live in and creating a space for EACH student to feel seen and understood. (Read more about anti-bias education here)
Related: Caring for Kids after Crisis
Think about this:
When we plan the curriculum for our ECE programs, what is the goal? Typically, we use every resource available to us to benefit the social, emotional, physical, and cognitive development of our students. Therefore, integrating any type of holiday celebration should be looked at in the context of fulfilling these goals. Sometimes, that means asking hard questions:
"We must ask: Is the celebration for parents? The teachers? The administration? Or the person who insists we have a cultural celebration? Is it for politicians or board members? Is it because the greater society dictates it (Christmas, Halloween, commercial holidays)? If it is not principally for the children, then it probably shouldn't be celebrated." – Francis Wardle, Exchange 11/94 — 44
This is not to say that holidays shouldn't be celebrated! Celebrating the holidays of the children in your class is a great way to bring awareness to the diverse cultures around the world and in our backyard. Children love to share about themselves and inviting families to share their culture is fun and educational for everyone!
"When program leaders, teachers, and families commit themselves to respectful, thoughtful exchanges of ideas and work together to create a holiday program that is respectful of everyone, we create something truly remarkable. It takes lots of conversations and practice listening to, learning from, and give-and-take negotiating with people in your program. What better modeling can we offer our children?" (full article here)
Click here for an example questionnaire to get families involved!
Let's work together this holiday season and help our students learn that our diversity makes us special and that everyone is important.
Stay connected with news and updates!
Join our mailing list to receive the latest news and updates from our team.
Don't worry, your information will not be shared.
We hate SPAM. We will never sell your information, for any reason.