Cooking with Kids: Scones!
Aug 19, 2018
As we begin the new year, you can help beginning of year jitters by planning a cooking activity with your kids. When we prepare food and then eat it together, we work towards a common purpose. And everyone will enjoy it because who doesn't love a great snack? Additionally, having an extra snack in-between meals will help little tummies get adjusted to the new school schedule.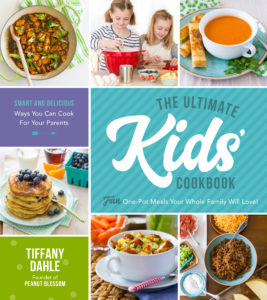 Tiffany Dahle recently gave me her new cookbook for kids to review. It's entitled The Ultimate Kids' Cookbook by Tiffany Dahle. Each recipe has a part that's done by kids alone, then tasks that the grownup does, then things you do together to finish out the deliciousness. The recipes are simple, well organized, and written so that older children can follow them on their own. I've been testing some of the recipes and think this would be a great one to try with young children – Easy Cherry Almond Scones! Click here for the recipe.
I suggest you try the recipe at home before you make it with kids, that way you'll know how to best help them do it on their own. You'll find this recipe creates a light, slightly sweet, fluffy scone with great texture. The addition of heavy cream takes the place of having to mix solid fat like shortening or butter into the flour, which simplifies the process a lot!
When you make this recipe with your kids, you can adapt it to their preferences. Add blueberries, raisins, or chocolate chips instead of dried cherries.
Here's what your kids can learn by making these yummy scones…
Science concepts: differences between wet and dry ingredients, what happens when batter bakes – they go in the oven wet and gooey, they come out dry and fluffy, differences in taste even when ingredients look the same, like salt and sugar.
Social-emotional opportunities: working together, turn-taking, waiting (for scones to bake), eating together, and talking about how they taste and whether or not you like the taste. Baking extra scones and giving them away to others gives children the experience of making others happy and feel special.
Physical development: mixing, pouring, kneading dough, and spreading butter all offer opportunities for fine motor development.
Language/literacy: Make print connections as you read and follow the recipe together, conversation with friends as you collaborate then taste your scones together, writing opportunities when you follow up with a journal or art activity about baking scones with your friends. Read a children's book about baking, food, or bread during the whole group before you make your scones, and then you can talk about the similarities between your cooking activity and the content of the story.
New vocabulary words: scone, blend, bake, cream, knead, melt, tasty!
Send a copy of the recipe home with kids so families can enjoy cooking together too.
Cooking together is a great way to have fun, create healthy eating habits and learn through hands-on experiences.
And if you'd like to order a copy of the cookbook, click here
Thanks for all you do. Have fun and remember to always be kind to kids!
Stay connected with news and updates!
Join our mailing list to receive the latest news and updates from our team.
Don't worry, your information will not be shared.
We hate SPAM. We will never sell your information, for any reason.